Hello friends of the internet. I have just finished up my first semester at an official university and I am aching to write lots of blog posts this summer. So here is my first. A review of
King's Blood
by Jill Williamson. This book was complimentary and I am giving my honest review.
King's Blood
is the second book in the Kinsman Chronicles series, so be sure to check out
King's Folly
first! Welcome back to Book Thursdays!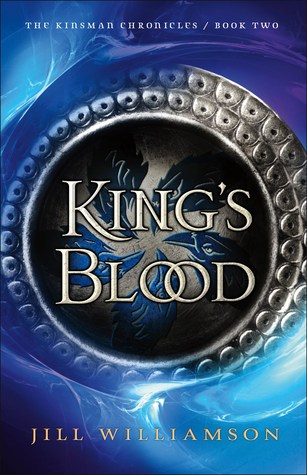 Back cover: The Five Realms have been destroyed. The remnants of the population who escaped now find themselves confined only to several hundred ships adrift at sea. Guided by hope, rumor, and a promise, they sail north into the unknown, desperate to find land that might become their new home.
As the king's illness worsens, Sâr Wilek takes authority over the expedition and struggles to rule the disjointed people, while assassination attempts, vicious serpents, dangerous storms, and dark magic endanger his life and the survival of his people.
One prophecy has come to pass, but another looms dauntingly in the future. Who is the promised Deliverer? And if the Magonians have him, what might that mean for the realm of Armania?
One thing Jill Williamson always does well in / her books is world building. World building is the time an author takes to develop their world, all the intricacies of each culture and the expanse of each world they portray. Each of Williamson's novels has a great level of world building that helps make the story more real for the reader. It is an important skill and one she excels in.
One thing every good story need is a good character (or several). Williamson always crafts remarkable characters. Two of my favorites in this series are Sâr Trevn and Hinkdan Faluk, two young men in some perilous situations. I've so enjoyed reading Hinkdan's character development over the first book and this one. He has become so courageous and I like him very much. Other characters are also lovely, though I disliked Charlon (another main character) more this time around. Other characters were written perfectly to disgust the average reader with a conscious, including Sâr Janek and Sir Kamran DanSâr.
The plot of this novel was quite expansive. The novel is nearly six-hundred pages and covers many characters in a detailed and exciting story. A helpful character appendix at the front of the book will help forgetful readers keep characters and relations straight. The story does not feel rushed. I think the pacing was handled well so that everything moved at a good speed. This is that rare type of book with light moments and parts that will make you sob... at least for me. I finished this book in tears, but still excited for the next installment. So if you prefer stories that only include happiness, then this book is not for you. But if you enjoy the realism of pain, the joy of life, and exciting fantasy, you may just in enjoy this story. It is well worth the time it takes to read (and really, it's so interesting that six-hundred pages aren't anything.)
I recommend this book and if you are interested in reading it, you can find it
here
or wherever it may be sold.
~ Bethany